DJ Lag is set to perform at Sónar Barcelona 2019, presented by Red Bull.
History will remember DJ LAG as a pioneer who propelled the quintessentially Durban Gqom sound beyond the confines of the coastal city, straight into the capitals of the international electronic music industry. At first listen, it might not appear that Gqom's minimalist, bass-heavy sound would take Lwazi Asanda Gwala from Clermont township in Durban to commanding dancefloors in Europe and Asia. But DJ Lag's superb production skills have played a big part in transforming a sub-genre of house – one that began by soundtracking taxi trips around Durban – to an enviably innovative participant in the global scene. To date in his rapidly rising career Lag has collaborated with Skrillex on the Bridges for Music project, has played in NYC, South Korea, Poland's Unsound festival, and Sónar Istanbul as well as featuring prominently in the music and lifestyle press and releasing two EP's on London's Goon Club Allstars label. DJ Lag will arrive at Sónar Barcelona after having also performed in Sónar Istanbul, the weekend of 8 and 9 March.
Listen to DJ Lag's Sounds of Sónar mix here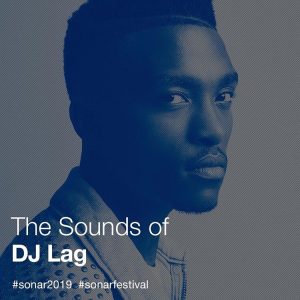 …and catch him on tour on the dates below!