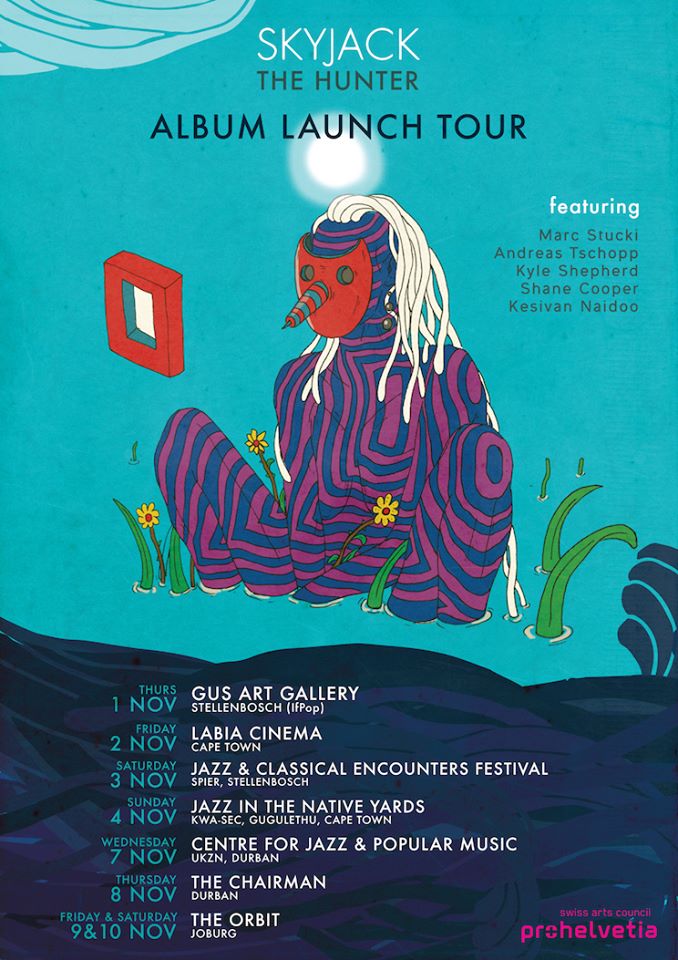 This November sees one of our busiest bodies, Shane Cooper aka Card on Spokes, touring South Africa with his Swedish-South African jazz outfit SkyJack, in order to launch their highly anticipated 2nd album 'The Hunter'. This is an exclusive South African release of the alum in CD form, with the international (and digital) drop set for 2019 on German label Yellowbird Records.
Alongside some of South Africa's finest in Kyle Shepherd on piano, Shane on double bass, and the effervescent Kesivan Naidoo on drums, two of Switzerland's most in-demand horn players, Andreas Tschopp on trombone and Marc Stucki on tenor sax, complete the group. It's nothing like Card On Spokes' electronic efforts, but their sound is an absolute powerhouse, and anyone can tell that Shane's midas touch has contributed to this fine piece of work. Take a gander for his next performance with the band in your area:
Thu 1 Nov – Gus Art Gallery, Stellenbosch (IfPop) – 7pm / free
Fri 2 Nov – Labia Cinema, Cape Town – 8:30pm / R150 (quicket.co.za)
Sun 4 Nov – Jazz in Native Yards, Kwa-Sec, Gugulethu, Cape Town – 3pm / R100 (tickets at door)
Wed 7 Nov – Centre For Jazz & Popular Music, UKZN, Durban – 6pm – R80 (general), R50 (pensioners), R25 (students).
Thur 8 Nov – The Chairman, Durban – R10:30pm / R150 (tickets at door)
Fri Nov 9 – The Orbit, Joburg – 8:30pm / R180 (011 339 6645)
Sat Nov 10 – The Orbit, Joburg – 8:30pm / R180 (011 339 6645)
(poster illustration from the new CD cover, by marstheillustrator)